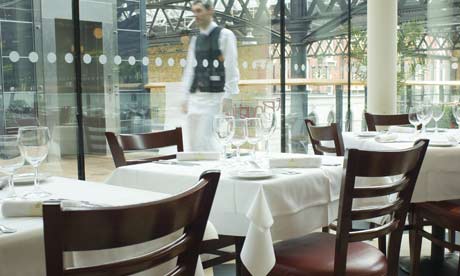 Le
Le Bouchon Breton
is nicely located on the new mezzanie floor of Spitafields market -perfect for a city lunch and Xmas shopping in one trip. The seafood is excellent, the menu goes around all the French classics, even to the risk of being cliche'd (like the frog legs).
And as France is the largest country of Europe, inspiration doesn't stop at the Brittany borders: there's choucroute and meat.
I tried the oysters (very good indeed) and the choucroute -very nice despite being a bit watery- with an excellent Alsacian riesling.
The service was very attentive, they gave me the "champagne table" though a quite slow for a lunch. My partner in crime took a salade de pissenlits (dandelion salad) and some smoked eel -and loved it. We ended up with some profiteroles (too much ice cream to my taste) and a Coteaux du Layon. The lunch came at £160 which isn't cheap despite the high food quality.
Highly recommended!
Le Bouchon Breton
1st Floor, 8 Horner Square
Old Spitalfields Market,
London
E1 6EW
08000 191704
See the other reviews:
Le Bouchon Breton London - French Restaurant Review, Online ...